As businesses continue to depend on technology for daily operations, the need for reliable, high-speed data transmission has become critical. However, many companies still rely on outdated cabling systems that cannot support the increasing demand for data transfer and are difficult to manage and maintain. The shortcomings of these outdated cabling systems can cause frustrating disruptions and potential loss of productivity for businesses. This gap is where structured cabling comes in.
A structured cabling installer can help businesses upgrade their cabling infrastructure to a more streamlined and efficient system. In this blog post, we will provide a comprehensive overview of structured cabling, including its six components, different types of installation, essential considerations to make before installation, and how to choose the correct installer for your business. By the end of this post, you will better understand what structured cabling is, and how Mohawk Networks can improve your business's technological infrastructure for the long term.
What Is Structured Cabling?
Structured cabling refers to the organized collection of copper and fiber wiring that comprise a building's telecommunications cabling infrastructure. Like electrical service, it runs throughout the building and connects directly to network servers and switches. Opting for structured cabling can assure predictable, efficient performance, and the flexibility necessary for your network's infrastructure.
Conventional point-to-point cabling connects different parts of your network through a single wire, often fiber cables. However, with structured cabling, you have a series of wires that connect servers and switches through flexible pathways that are easier to manage due to their divisions and shorter lengths. This simplification makes it an ideal option for businesses with numerous connections as it streamlines the cabling process instead of the messiness that comes with several long wires.
What Are the Six Components of Structured Data Cable Installation?
A structured cabling installer uses six components that provide the optimum infrastructure for business communications, such as voice and data. The six components are horizontal cabling, vertical cabling, entrance facility structured cabling, consolidation point structured cabling, telecommunications enclosure, and work area components.
Horizontal Cabling
The horizontal cabling subsystem is the primary cabling of a structure cabling system design. It connects telecommunication outlets with a telecommunication closet. Voice and data cabling contractors use these components in the horizontal system:
Data and network cabling terminals where wire or fiber connects to a device
Outlets where desktop phones and computers plug into to connect to the internet
One or more transition points that connect one type of cable to another
Cross connections between cable runs
Equipment and subsystems that primarily use patch cords and jumpers
Vertical Cabling
Vertical cabling, or backbone cabling, is the core subsystem comprising cables and components. It interconnects between and among telecommunication rooms, entrance facilities, and equipment rooms, but it can also connect separate buildings within a campus. This subsystem includes the actual cables and connections, conduits, raceways, and through-floor penetration sleeves.
Entrance Facility Structured Cabling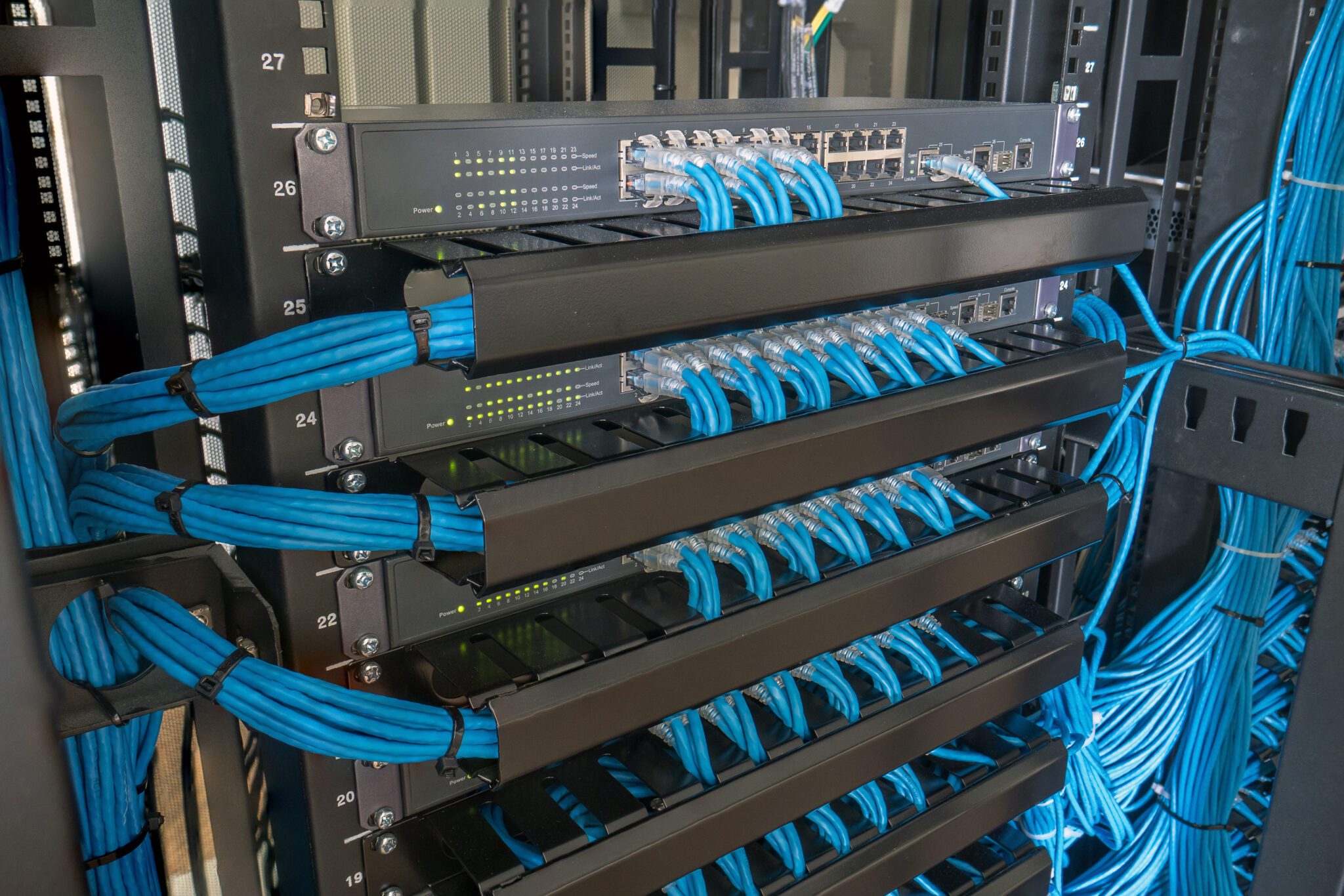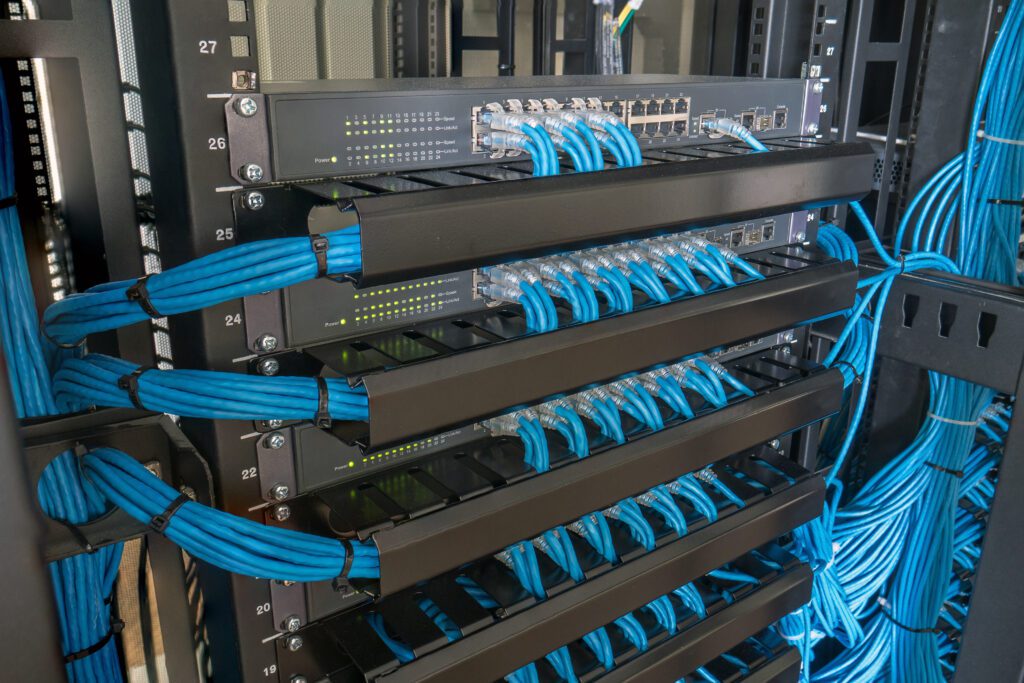 This subsystem includes all the components to connect a building to outside data or phone service providers. It can also connect to a private network cabling system. It can also connect vertical cabling between buildings. The electrical codes required in the building's location dictate the required components of the system.
Telecommunications Enclosure
This enclosure can sometimes be a box inside a room or an entire room for larger networks. This component is where all horizontal and vertical cabling cross-connect. Some of the parts included in this subsystem include cross connects, patch cords, auxiliary cords, and connecting equipment.
Consolidation Point Structured Cabling
If the data cabling specialists install the system in a very large network, one or more centralized equipment rooms may be necessary. These rooms are environmentally controlled for cooling and house equipment such as routers, servers, and other mechanical termination components. These rooms are the consolidation point for structured cabling systems. Smaller networks may use the entrance facility or telecommunications enclosure for the same purpose.
Work Area Components
The work area subsystem is responsible for linking the workstation equipment of end-users, such as computers, phones, copiers, and more, to the final telecommunications connector, which is achieved through the horizontal cabling subsystem. This subsystem comprises several components including outlet and patch cables, PC adapters, and fiber cables. Additionally, workstation equipment is also commonly considered part of this subsystem.
Are There Different Types of Installation for Structured Cabling?
Yes, there are different types of installations for structured cabling. Structure cabling uses low-voltage wires for communication. Low-voltage structured cabling uses less than 50 volts of electricity and is used for four primary types of installation.
Ethernet Cabling—Used to connect devices, such as computers and routers, within a local network.
Voice and Data Cabling—This cabling is used for phone systems and internet connections. It runs through the walls and ceilings of a business to connect devices back to the telecommunications enclosure and server room.
Security System Cabling—Cables run through walls to connect security cameras to a server or network video recorder equipment. They can also provide power to the camera.
Intercom Cabling—This cabling creates the system for voice and/or video communication within one or more buildings.
What Needs to Be Considered Before Installation?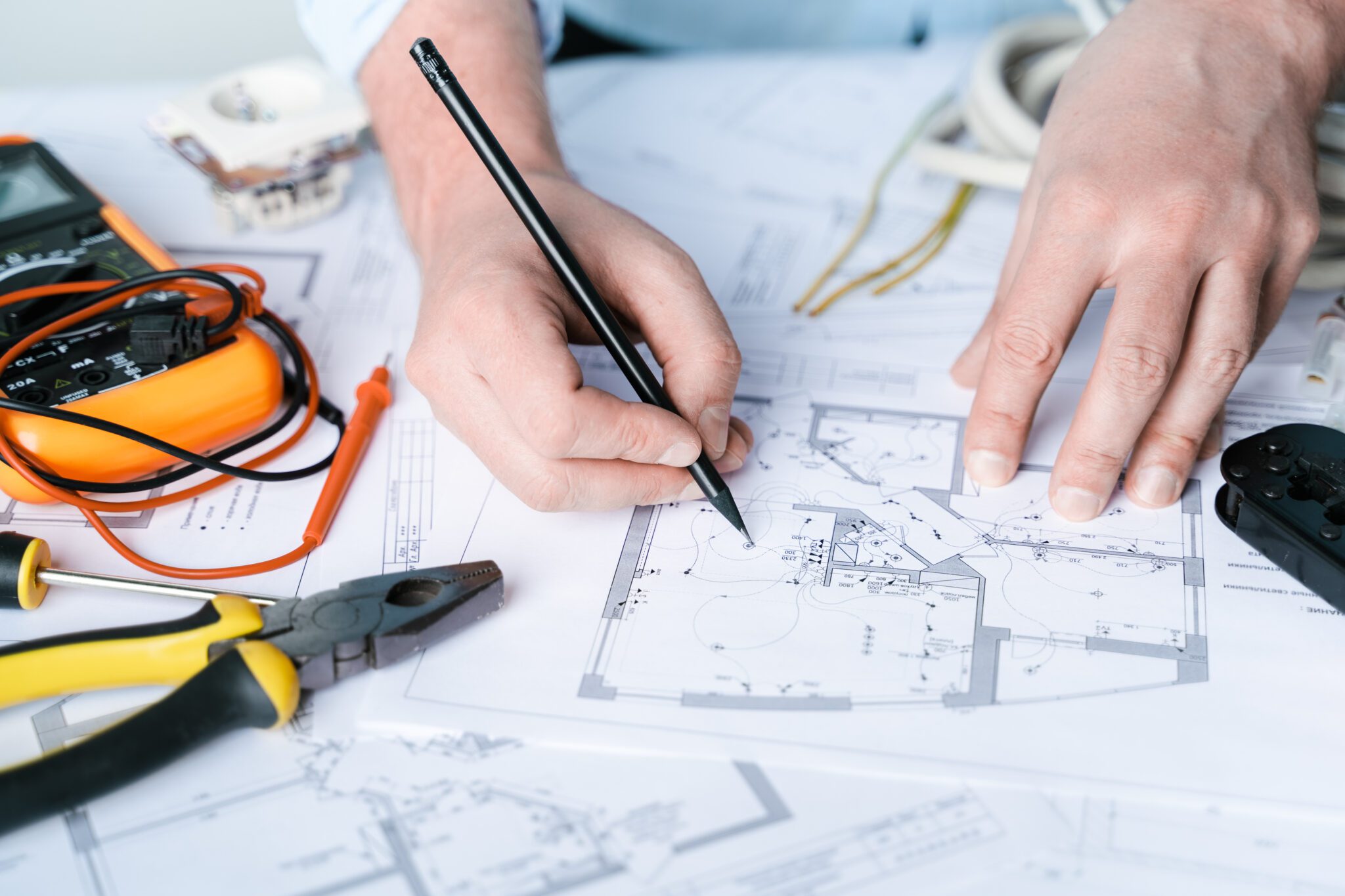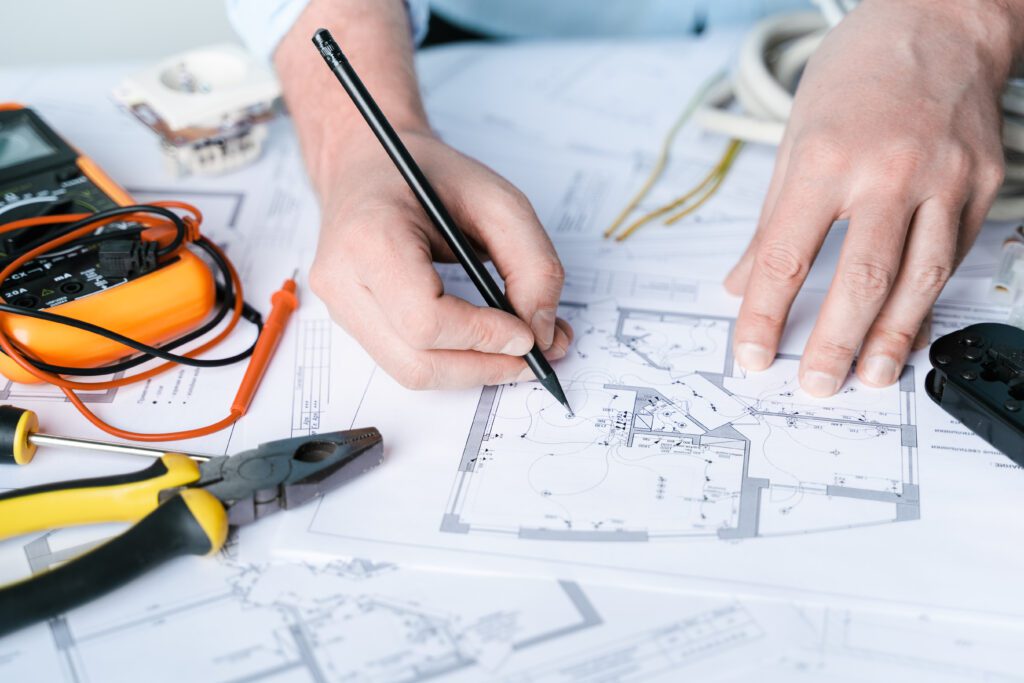 Before a structured cabling installer can run the communication wiring and cables to empower business communication, there are a few considerations to make. The first consideration is the layout or floor plan of the space, which determines where the cables will run. Next, the data cabling specialists will consider the needs of the business and organization. For example, are there just a couple of work areas that need to be connected or hundreds?
Third, structured cabling companies will consider the size and structure of the building or campus. They must plan for the structured cabling installation based on the space's dimensions. Finally, the future needs of the business will be considered. For example, if a business plans to grow significantly or new technologies are on the horizon, the structured cabling infrastructure can be customized to accommodate that.
How Do I Choose the Right Structured Cabling Installer?
If you're searching for "structured wiring companies near me" to find a reliable structured cabling contractor, you should look for a few things before hiring them. First, do they have cabling installation experience? If so, how long have they been doing it, and can they provide references?
Second, they should sit down and have a discussion with your business about your current and future needs, as well as the layout of your business. Third, you should find one that is local to your area. They will generally have worked with other structured cabling systems near you, so they already know what to expect in your area.
If you're in Northern New York or the surrounding areas, we can help you get your structured data cable system up and running. No other company has more fiber in the ground than us, meaning you get the best network services possible. We are also local to your area and provide a highly responsive team ready to serve you.
Ready to Get Started with Our Structured Wiring Company Near You?
Structured cabling offers many benefits for businesses looking to improve their technological infrastructure. From increased efficiency to improved data transfer speeds, upgrading to a structured cabling system is a worthwhile investment for any business. However, it is crucial to choose a skilled and experienced structured cabling installer who can ensure that your installation meets your unique business needs.
If you're interested in upgrading your cabling system, Mohawk Networks offers high-quality, customized, structured cabling installation services for businesses of all sizes. Contact us today to receive a quote and learn how we can help you improve your business's technological capabilities for years to come. Don't wait. Make the switch to structured cabling today and experience the benefits firsthand!
Resources: