Every month, we gather the results we receive from our Broadband Survey for non-customers into a report. We use these reports to review as a team, see where people are most in need of Internet services, and to better understand what the people in the community are wanting from their Internet provider. Thank you for taking the time to take the survey and polls so that we can better serve the community.
We're listening! Here are the results of the Broadband Surveys as of June 30, 2016…
Map of Survey Respondents – North Country:
Map of Survey Respondents – Zoomed in to the Bombay Tower Area: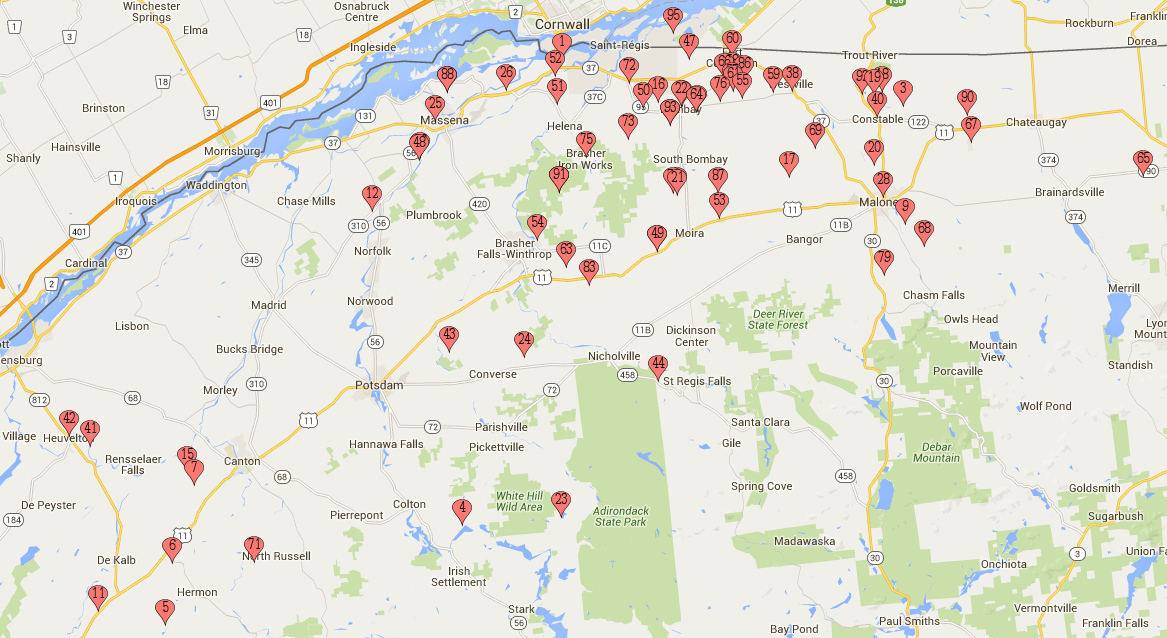 Do you have access to high-speed Internet: 44.7% do not have access
Current Internet Service Provider:
Verizon: 29.7%
Time Warner Cable: 18.9%
Hughes Net & Exede Dish Network: 6.8% each
Current Internet Speeds:
1-5 Mbps: 40.8%
No Internet: 17.5%
6-10 Mbps: 14.6%
Happy with Current Service: 94.2% are not happy with their current service
Feel Unserved or Underserved: 93.2% Feel Unserved or Underserved
Interested in a New Internet Service Provider: 100% Are Interested
Interested in Being a Test Customer: 97.1%
Confirm It's Okay to Contact Them: 99%; of this percent, 60.4% confirm we can contact them with any contact method (32.7% prefer email contact only; 5.9% prefer phone contact only; and 1 % prefers regular mail only)
Top 3 Submission Zip Codes:
Fort Covington: 13.6%
Massena: 10.7%
Bombay: 9.7%
Top 3 Things You Would Change About Your Current Internet Service Provider:
Cost/Value/Price/No Overage Fees: 29%
Faster Speed: 27%
Reliability/Quality: 16%
Important Anecdotal Comments from Respondents when asked "What would you change about your current Internet Service Provider?" (edited for clarity):
Would be a higher speed than 2 .3 Mbps maximum that we receive now from xxxxx even though we are only a little ways from their office. For some reason they won't go across the street and up our road with fiber. Gets real hard to work or pay bills online with the slow service, along with it dropping out a lot.
Paying high price for unwanted landline phone line in order to have internet.